NOW HIRING CLASS A CDL DRIVERS! .46 Cents Per Mile To Start In The Gary, IN Area!
Overview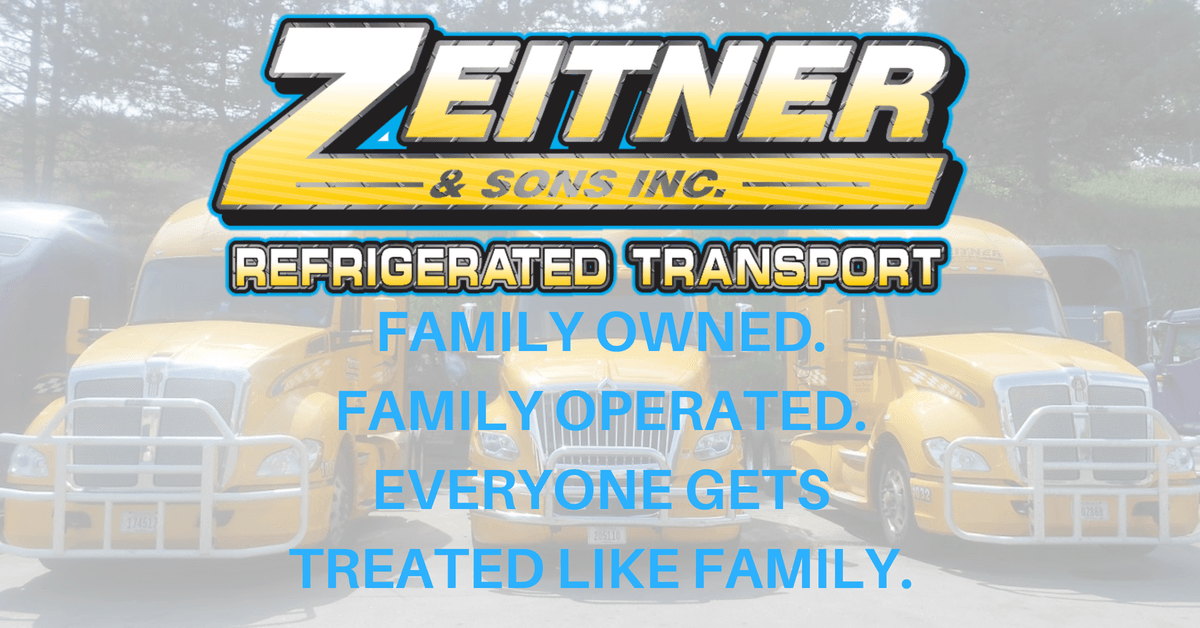 ZEITNER AND SONS REFRIDGERATED TRANSPORT NOW HIRING CLASS A CDL DRIVERS
Come Join one of the Midwest's leading refrigerated truckload carriers, in business for more than thirty- five years and regional runs the average miles per week is 2,500 to 3,000 practical miles.
What we offer our Drivers:
.46 cents per mile to start
Productivity Bonus of .03 on all paid miles if over 30,000 in a calendar quarter (Typically 80 to 85% of drivers make bonus)
Annual safety bonus for no preventable accidents or incidents
Annual service bonus of $100 for each year of service
Late model tractors, mostly Kenworths
All trucks governed at 70 MPH
Health and Dental insurance
All trucks have refrigerators
Extra drop pay
401K
Weekly pay
Direct deposit
Electronic logs
Paid vacation
No forced dispatch
Call or Apply Today for More Information!
This truck driving job posted by the American Driver Network
Job Type
Company Driver
Owner Operator
Zeitner & Sons Inc.
Zeitner & Sons Inc.
855-884-3271
Zeitner & Sons Inc. is a trucking company located in Omaha, Nebraska. One of the Midwest's leading refrigerated truckload carriers, Zeitner has modern, state-of-the-art equipment from companies such as: Kenworth, International, Freightliner, Great Dane, Utility, Carrier, and Thermo King. In business for more than 30 years, this commercial truck line takes great pride in its history of employing the finest professional drivers whose first priorities are excellent customer service second to none. Whether you are an owner-operator or a company driver, Zeitner & Sons Inc. offers one of the finest benefit packages around. Browse our website to learn more about our company, our services, and our great employment opportunities. We, at Zeitner and Sons Inc. exemplify what the trucking industry is all about.
Zeitner & Sons Inc.'s Hiring Area
IA

IL

IN

KS

KY

MI

MN

MO

ND

NE

NJ

NY

OH

OK

PA

SD

TN

WI

WV
Benefits
Health Insurance
Vision Insurance
Dental Insurance
Life Insurance
Cargo / Collision / Liability Insurance
Retirement Plan
Paid Vacation
Paid Weekly
Direct Deposit
---
Truck Driving Jobs at Zeitner & Sons Inc.

Zeitner & Sons Inc. – Gary, IN – Company Driver Job – 01/26/2020
Here at Zeitner and Sons Inc. we are a small (94 Trucks), family owned and operated trucking. The biggest difference between us and everyone else is that our Boss is one of our dispatchers. If you have a problem we will work with you to find a solution. Here we behave differently: Weekly pay out range - $1,300 - $1,500 per week No FORCED...more

Zeitner & Sons Inc. – Gary, IN – Company Driver Job, Owner Operator Job – 01/26/2020
ZEITNER AND SONS REFRIDGERATED TRANSPORT NOW HIRING CLASS A CDL DRIVERS Come Join one of the Midwest's leading refrigerated truckload carriers, in business for more than thirty- five years and regional runs the average miles per week is 2,500 to 3,000 practical miles. What we offer our Drivers: .46 cents per mile to start Productivity Bonus of .03 on all paid miles if over 30,000 in...more

Zeitner & Sons Inc. – Gary, IN – Company Driver Job, Owner Operator Job – 01/26/2020
ZEITNER AND SONS REFRIDGERATED TRANSPORT NOW HIRING CLASS A CDL DRIVERS Come Join one of the Midwest's leading refrigerated truckload carriers, in business for more than thirty- five years and regional runs the average miles per week is 2,500 to 3,000 practical miles. What we offer our Drivers: .46 cents per mile to start Productivity Bonus of .03 on all paid miles if over 30,000 in...more